Abstracts: Another World
---
Abstracts: Another World
---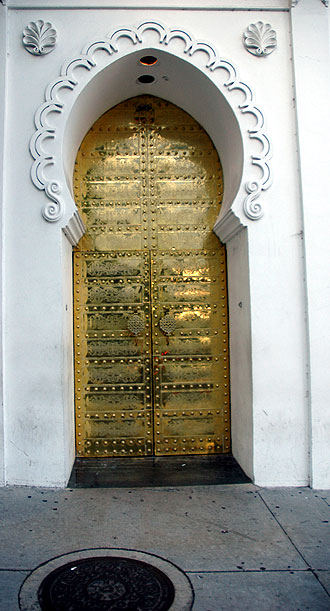 Golden Door with Manhole Cover
-
Dar Maghreb
, the high-end Moroccan restaurant on Sunset Boulevard at Stanley Avenue, on the east end of
Guitar Row
, across the street from Kinko's and All-American Burger. It's a bit out of place - behind it are blocks and blocks shady streets of Craftsman bungalows. This isn't exactly Casablanca, or Marrakech or Rabat. It's a moderately gritty part of Hollywood - one of the scruffy areas of Sunset, between the Strip and Hollywood proper. But this is the land of fakery. It will do. It is very classy, just in the wrong place.
Frommer's says
this
(among other things) -
Enter an exotic Arab world of genie waitresses who wash your hands with warm water and belly dancers who shimmy around an exquisite fountain in the center of a patio. You'll feel like a guest in an ornately tiled palace as you dine at traditional tables on either low sofas or goatskin cushions.

Nothing is available a la carte here. The fixed-price meal is a multi-course feast, starting with bread and traditional Moroccan salads, followed by b'stilla, an appetizer of shredded chicken, eggs, almonds, and spices wrapped in a flaky pastry shell and topped with powdered sugar and cinnamon. The main courses - your choice of lamb, quail, chicken, and more - are each sublimely seasoned and delectable. Perhaps it's the atmosphere that makes everyone eat more than they expected, but you'll be thankful that dessert is a simple fruit-and-nut basket, accompanied by warm mint tea poured into traditional glasses. All is eaten with your hands - a sensual experience that grows on you as the night progresses. Tip: If you have high-speed Internet access, be sure to check out the restaurant's most entertaining belly dancer/waitress video.
So click on the top link if you're interested in the dancers. Here is just an exercise in framing, patterns, and light and shadow. The door is on Stanley Avenue, facing west, as seen on Tuesday, July 11, 2006, at six in the evening.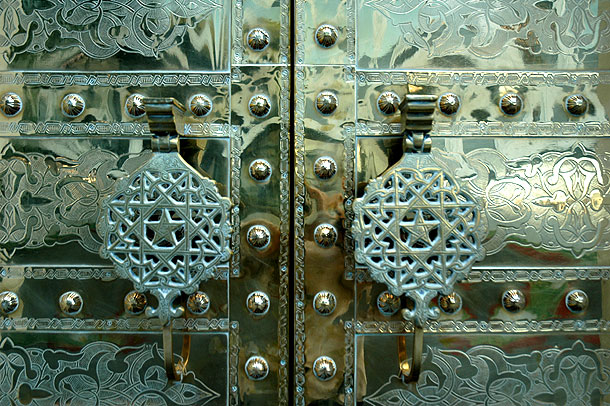 Above the door -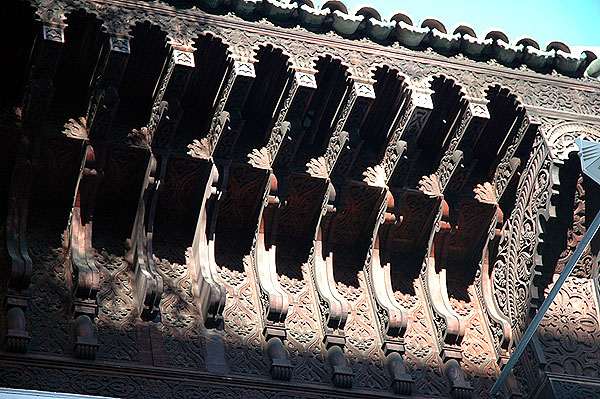 Context -