Dark Hollywood
Topic: Color Studies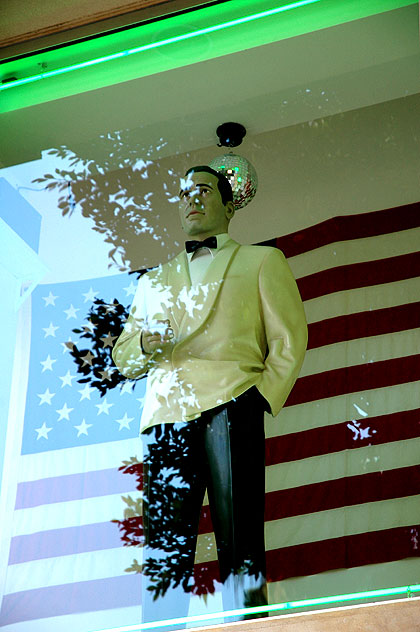 Your mood effects what you see. Friday the 13th in Hollywood opened with low clouds that broke up late morning in the damp light breeze off the Pacific, pushing in from the other end of Sunset Boulevard, ten miles west, where Sunset ends at Pacific Coast Highway at the south end of Malibu. Then the big billowy cumulus built up, sliding over toward the mountains between us and the Mojave Desert, where they sat, getting darker. Then the sky got darker here, with the low, hairy leading-edge black scudding things drifting in, and it started to smell like rain, somewhere. The first rain of the fall is on the way - seventy percent chance, or so they say. This may be the first rain in six months - but no one checks the records. Did it rain last spring sometime? No one remembers. Rain is not what happens in Southern California, except in the thirties film noir things, or on old radio episodes of Dragnet from the early fifties. But it's back.

Friday the 13th on Hollywood Boulevard, passing through while running a few errands, the place was looking very noir, or very Friday the 13th - everything passing out of light and shadow.

At Hollywood and Vine, at Iguana Vintage Clothing, Humphrey Bogart, as Rick in Casablanca, was still looking down on the street - standing behind the glass and poison green neon, holding one of the cigarettes that killed him. He's been there for years, cynical, seeing nothing.

He's looking down on a very red wall these days, and at Bloodshot. And below him to the right is a black wall that seems to tell a story - but the story is obscure, the meanings hidden. Very noir.