Five Stucco Studies - A Neighborhood School
Topic: Color Studies
Five Stucco Studies - A Neighborhood School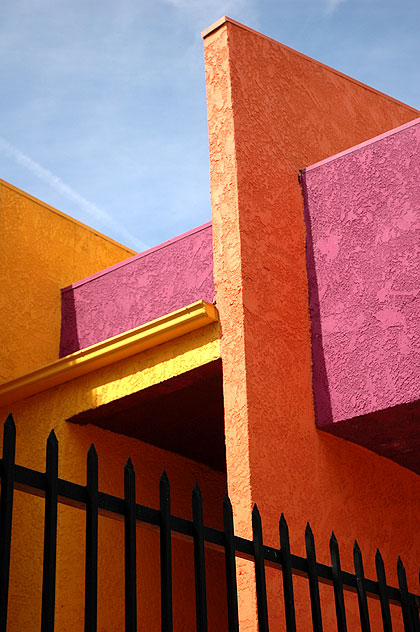 The neighborhood school is the Howard Fine Acting Studio, 1445 North Las Palmas Avenue, a few steps south of Sunset, just around the corner from Crossroads of the World. This is a New York conservatory-style professional studio - two stages and one open space, three hundred current students, with Fine and eight additional "master faculty" members.

The site lists those who have studied and are studying with Fine - "Brad Pitt, Val Kilmer, Diana Ross, Jennifer Connelly, Sela Ward, Billy Campbell, Jon Bon Jovi, Kim Delaney, Elle McPherson, Brooke Shields, Darryl Hannah, Kelli Williams, Alison Eliot, Chris Meloni, Rosanna Arquette, Lee Tergesen, Claudia Schiffer, Jason Priestly, Michelle Williams, and currently Garry Shandling, Salma Hayek, Gerry Butler, Mark Dacascos, David Eliot, Heather Locklear, Richie Sambora, Michelle Kwan, Michael Chiklis, James Belushi, Scott Wolf, Rob Estes, Lori Loughlin, Mark Harmon, Pam Dawber, Maura Tierney, Adrian Pasdar, Heather Tom, Elizabeth Berkeley, Jared Leto, Jack Noseworthy, Danny Nucci, Tisha Campbell, David Faustino, Dwayne 'The Rock' Johnson, Estella Warren, and Tori Spelling, among others."

Someone chose the stage name Jack Noseworthy? It must be a Cyrano thing.

Be that as it may, the building is all angles and colors - the stucco work is fine, nothing special, but the colors are startling. These shots are from noon, Tuesday, October 3 - not a celebrity in sight, anywhere. This is an exercise in color and composition.