Facades of Four Sorts
Topic: Historic Hollywood
The mysterious door at 6763 Hollywood Boulevard, a well preserved, two-story Classic Revival building. In the twenties, the Montmartre Café, a popular nightclub, was up on the second floor, and next door was the Embassy Club, a fashionable private club that catered to Hollywood's elite back then. It's all locked up now. Those days are long gone. The star in the sidewalk there, in the Walk of Fame, reads Jascha Heifetz.
Jascha Heifetz (1901-1987) was, they say, the greatest violinist of the 20th Century. So he gets his star in the sidewalk in Hollywood.
Heifetz was born in Vilna in Lithuania, then a part of Russia. But he's really a local. Yeah, when he was twelve he met Fritz Kreisler for the first time in a Berlin private home with all the big gun violinists of the day, and the story goes that when Kreisler finished accompanying Heifetz at the piano (the Mendelssohn Concerto), Kreisler said to them all, "Now we can all break our fiddles across our knees." And there was the first time Heifetz played in the United States - October 27, 1917, Carnegie Hall. Violinist Mischa Elman in the audience complained - "Phew, it's hot in here." Leopold Godowsky, in the next seat, smiled and said "not for pianists." Heifetz became an American citizen in 1925 and ended up out here. When he told Harpo Marx (a great admirer) that he had been earning his living as a musician since the age of seven, Harpo quipped, "and I suppose before that you were just a bum." Harpo Marx did speak, after all. Hollywood in its Golden Age must have been a strange place.
Heifetz taught the violin out here, first at UCLA then at the University of Southern California, with his buddy Gregor Piatigorsky. And as late as the 1980s he held classes in his private studio in his home in Beverly Hills. He died at the Cedar-Sinai Medical Center down the hill from here - after brain surgery as a result of a fall and loss of consciousness at the Beverly Hills place.
And he has his star in the sidewalk.
__

Behind the building is the not very mysterious back door to the Stella Adler Theater and the Stella Adler Academy of Acting, the parking lot entrance. It's very brash. You can find a list of those who have studied with Stella Adler here - it's not just these two. (For a front view click here, a shot from mid-January.)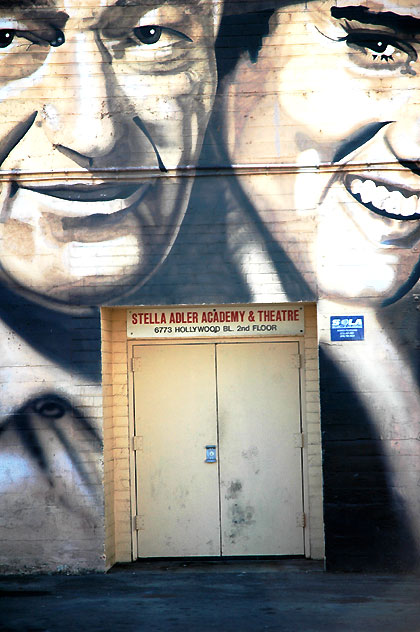 Some walls have no history, but they're cool - one block north of the others, the Yucca Street Community Center, Cherokee at Yucca.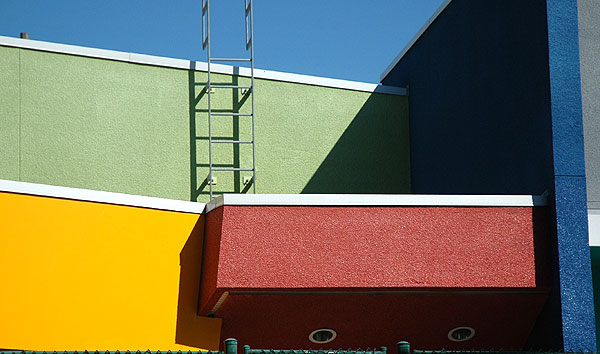 A blue wall, Cherokee at Hollywood Boulevard, providing irony…