Reflections, Hollywood Boulevard
Topic: Light and Shadow
Reflections, Hollywood Boulevard
Hollywood Boulevard is what you'd expect it to be. This is an exercise on working with reflections in glass, but they capture the place, Tuesday, October 10, 2006. (See the footnote for the day's events).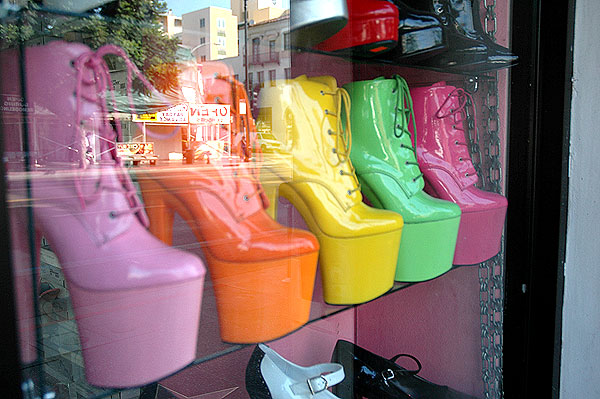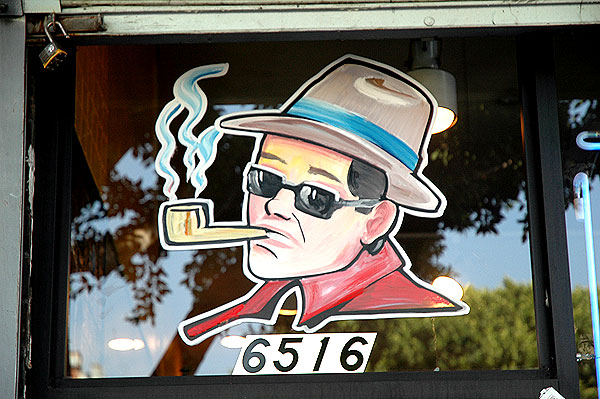 Footnote: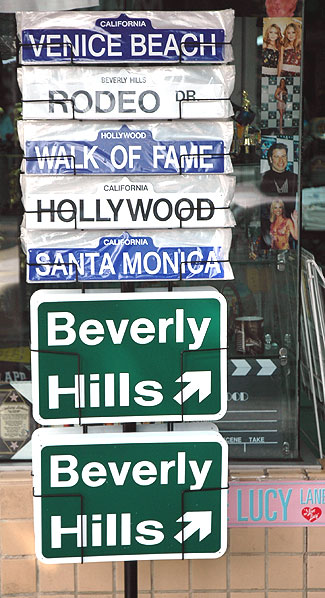 It was a big day on Hollywood Boulevard -
Hollywood Walk of Fame Star Ceremony Scheduled While Woods Tees Off in Front of Grauman's Chinese Theatre, October 10, 2006

WHO: Ruta Lee, Buzz Aldrin, Jack Carter, Gary Collins, Carol Conners, Dom DeLuise, Larry Elder, Erik Estrada, Budd Friedman, Mitzie Gaynor, Monty Hall, Stephanie Powers, Anne Jeffries, A.C. Lyles, Joey McIntyre, Julie Newmar, Debbie Reynolds, Ann Rutherford, Jack Carter, Fred Travelena, Daphne Zuniga, Alex Trebek, Dick VanPatten, Joanne Worley

WHAT: While actress and LA philanthropist Ruta Lee is honored with the 2320th star on the Hollywood Walk of Fame, international golfing legend, Tiger Woods will be teeing a ball down the length of Hollywood Boulevard to celebrate the launch of his most recent electronic golf game. The two momentous events will occur 50 feet from each other, tomorrow, October, 10, 2006.

While the scheduling snafu is the first of its' kind in the history of the Hollywood Walk of Fame star ceremonies, organizers will try to make lemonade out of lemons and each event will occur side by side. "I'm sure that good sportsmanship will come to play," laughed Ms. Lee, "this is a lifetime achievement for me, and just another tee-off for Tiger!" Just as Tiger tee's off, Ms. Lee's alma mater, The Hollywood High School band, will parade on Hollywood Boulevard across Tiger's Astroturf "fairway," and Ms. Lee will follow in the Ahmanson family's 1924 Cadillac with actors Debbie Reynolds and Alex Trebek.

DETAILS: One of Hollywood's most glamorous ladies, Ruta Lee's career in show business began at the famed Grauman's Chinese Theatre as a candy girl. She was signed by MGM as the youngest of the "Seven Brides for Seven Brothers" and subsequently in "Funny Face" with Fred Astaire and Audrey Hepburn, as Tyrone Power's secret love in "Witness for the Prosecution" and Frank Sinatra's leading lady in "Sergeant's Three," and has headlined in many musicals as Annie, Dolly, Peter Pan, Mame, Irene, Irma, Nellie, Rose, and Madame in the "Best Little Whorehouse." Lee has appeared in over 2,000 television appearances and is currently in production with "Christmas Everyday," an ABC Family Film and "Loves Pure Light," both scheduled for Christmas 2006 release. For more than 40 years, Lee has headed the Thalians, which has raised more than $40 million for the Thalians Mental Health Center at Cedars Sinai.
Missed all that. Sorry. The reports are it all went fine.