In the Land of Not Quite What It Seems
Topic: Insider Stuff
In the Land of Not Quite What It Seems
The setting, West Hollywood, the north side of Santa Monica Boulevard, in front of 9017 -
Charles Agapiou Ltd Rolls-Royce and Bentley
. This is the place to go for parts and service, for your Rolls or Bentley, of course. They also sell classic models of both, but not new ones. This is a few doors down from 9071 -
Dan Tana's
, where the Hollywood celebrities go when they want second-rate Italian food, or a good steak (see the notes below the photos).
The first shot - you have your classic Rolls with an ad rolling by, appropriately, for the new James Bond film - as it all comes together for a moment. But the second shot - on closer inspection we see the Rolls in being held together with duct tape.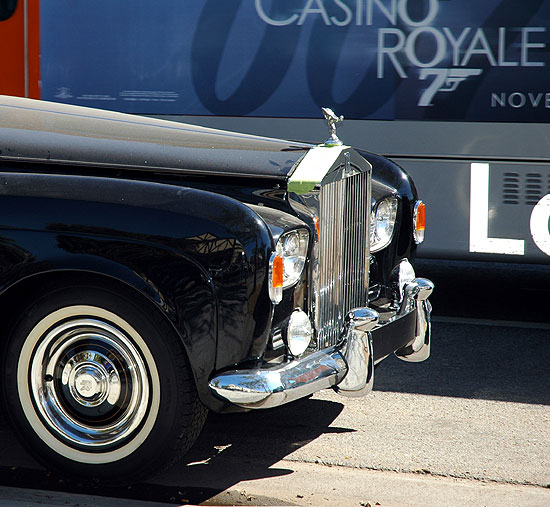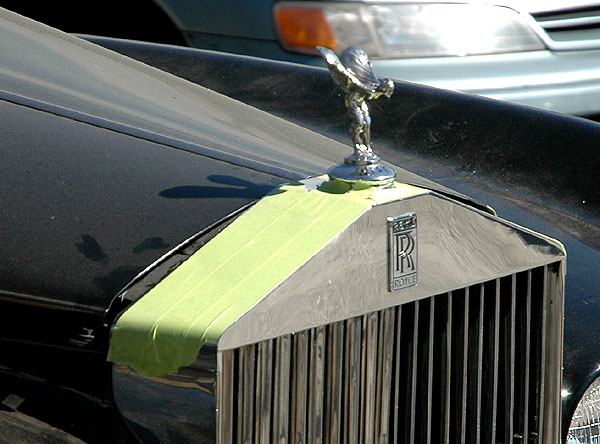 A new Ferrari, in front of the Rolls - for the handicapped, of course -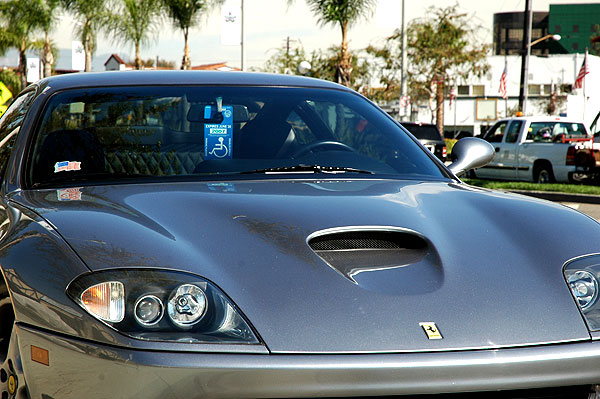 "To knock a thing down, especially if it is cocked at an arrogant angle, is a deep delight of the blood." - George Santayana

__

Dan Tana's - 9071 Santa Monica Boulevard, West Hollywood - celebrity notes -
Dan Tana's is something of a local landmark, dating back to 1964. Located just two doors down from the famous Troubadour nightclub (where Elton John made his debut in 1970), this old-fashioned, checkered-tablecloth Italian restaurant in West Hollywood been open for business for thirty years, and is a favorite hangout for the Hollywood set - a virtual club for many in the movie & music business.

In part, that's because the food here is good (and perhaps partially because publicity-shy celebrities like Bob Dylan can hide in the shadows of its dimly-lit interior).

George Clooney has been coming here for 25 years. Regular Dabney Coleman ("Madman of the People") even had the one-pound New York steak named after him (it will set you back $39). John Cusak and Linda Fiorentino were spotted here together. Ben Affleck and Matt Damon chose the restaurant for an early interview to hype "Good Will Hunting."

Drew Barrymore loves the place, and says "I had my diapers changed here!"

Lakers chief Jerry West says it's his favorite restaurant. So does Corey Feldman. Jim Belushi likes it because it reminds him of his hometown, Chicago. For others, it reminds them of New York. Cramped and dark, with a noisy bar, it has that kind of old-fashioned feel.

In Feb 2, 2003, famed record producer Phil Spector had dinner here (the bill was $55 and he left a $500 tip). Then he went to the House of Blues for a concert, where he met actress Lana Clarkson. They went home together, shots were fired, and Spector was arrested for her murder.

According to Army Archerd, in 2002, Leonardo DiCaprio was spotted at Dan Tana's picking up an order of chicken Parmigiana, chicken piccata, New York steak, French fries and two Dan Tana salads. Later, in August, Nicole Kidman was spotted entertaining a fleet of agents.

Other sightings include Brad Pitt, Meg Ryan, Benicio Del Toro, Piper Perabo, Ethan Hawke, Gwyneth Paltrow...

Following the 2001 Telethon for the victims of the 9/11 terrorist attacks in New York, a number of the stars from that telethon stopped at Dan Tana's to watch the (tape-delayed) show on the restaurant's TVs. They included "Cameron Diaz, Chris Rock, Ben Stiller, Adam Sandler, David Spade, Lucy Liu, Jim Woods and Benecio Del Toro."

Jay Leno also dines here. (According the Army Archerd, Jay was dining near the columnist when a man came over and thanked him for helping to push his disabled car off the road and trying to start it for him!)

Recently, James Woods and Lauren Holly were spotted at Dan's. So was Alec Baldwin.

In 1999, Jerry Seinfeld celebrated his 45th birthday there with friends including Garry Shandling, and while he was there his table was visited by Milton Berle and George Clooney.

Never trendy, its a red meat & whisky place, dimly-lit with red leather booths and wine bottles hanging from the ceiling. When you look under "Pasta" on this menu, you won't find "angel hair with sun-dried tomatoes" - you'll find spaghetti with meatballs and lasagna. Expect steaks & chops, and expect to pay a lot more than you would expect from the looks of the place. Says Variety columnist Army Archerd: "It remains one of the favorites with Hollywood's taste-conscious. One of the best places for steaks in the U.S. …"

Dan Tana's is open for dinner seven days a week from 5 PM to 1 AM. Reservations are hard to get - so get them way in advance. Dress is reasonably casual, and they offer valet parking.
No celebrities in this case - the shots are from late morning, Monday, 23 October. None of them are ever up and out and about that early.