Words and Symbols
Topic: Oddities
Words:
On the back of a Walk, Don't Walk signal on Melrose Avenue, a band slapped their sticker - Sounds Like Disaster. If this reflects their attitude - rebels expressing just how awful this world really is and what the authentic response should be - fine. It's punk rock tradition. If it's an admission of their skill level, that's another matter.
You have to assume the name was carefully chosen, not the result of using this
random band name generator
- each time you refresh the page you get new names you can call your post-punk beyond-new-wave band. It just produced Order of The Movable Dog, and A Fistful of Mice, and Venomous Furniture, and Stack of Noises, and Invisible Bone. Other bands may be cheating.
In any event, this is the Los Angeles alternative music scene in one image.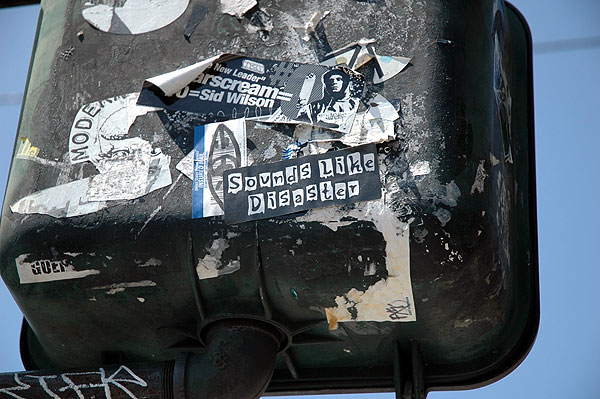 Symbols: A trashcan across the street. You don't even need the words.