Waves of Light
Topic: Light and Shadow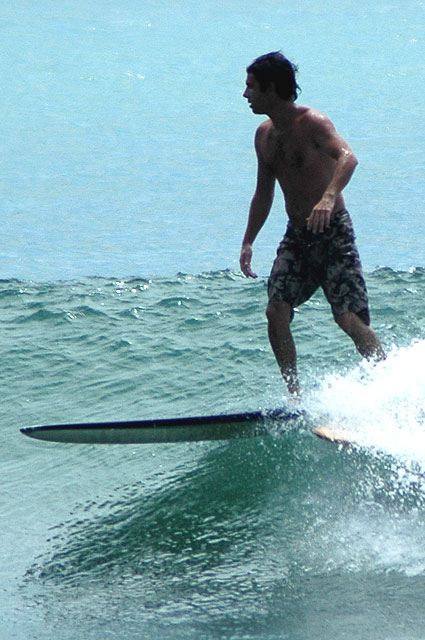 Location - Surfrider Beach on the north side of Malibu Pier, where each year they hold the Call to the Wall longboard surfing competition (there is an old stone wall above the beach)

Date and Time - Wednesday, August 2, 2006, 11:30 am Pacific Time

Conditions - full sun with a few widely scattered low clouds, the remnants of the morning marine layer, burning off inland, with air temperature in the high seventies and water temperature sixty-five, light onshore breeze - surf was three to four foot sets with an occasional five foot set (rated fair-good)

These shots - Nikon D-70 with the 70-300mm telephoto lens set to manual focus, with a UV filter fitted on the lens, and the camera's automatic shooting mode set to sport (fast shutter speed - 1/1600 second, F/5.6, ISO 200 - and whatever else the D-70 does there) - shooting pretty much into the sun glaring off the ocean. The challenge was working out the light levels, a backlighting problem - getting the wave detail in full light, some detail of the much darker surfer, and the surfer's reflection in the water below. The first, on the right, solves the problem. Below, you just have to love the old guy in the baseball cap. The third shot produced almost abstract silhouettes and quite natural realistic waves - a sort of surreal mix.