It's All In the Framing
Topic: Technical Exercises

It's just so California…

As seen from the rear, the steeple at The Church of the Blessed Sacrament (6657 Sunset Boulevard - Beezer Brothers, architects, 1928). This was the first Catholic Church in the Hollywood area (1904), and the boom of the twenties along with the explosive growth of the film industry led to this edifice. This was the parish church for Irene Dunne and Loretta Young, and where Bing Crosby married his first wife (Dixie Lee) in September 1930. The funeral of Carole Lombard's fiancé Russ Columbo was held here in 1934 - with pallbearers Bing Crosby, Gilbert Roland and Zeppo Marx.








Shift the frame slightly and you get the fake lighthouse that's part of Crossroads of the World (6671 Sunset Boulevard - Robert V. Derrah). This was built as "the world's first modern shopping center" in 1936 - Streamline Moderne, Spanish Colonial, Tudor, Moorish and French Provincial styles, all mixed together. It's listed on the National Register of Historic Places. In the 1993 film "Indecent Proposal" Demi Moore worked in a real estate office here. Crossroads of the World also plays its part in the 1997 film noir "L.A. Confidential" - Danny DeVito worked for a tabloid in one of the offices. It's in many other films. It's very odd. It's kind of a cruise ship and kind of not. Previous shots were posted here and here.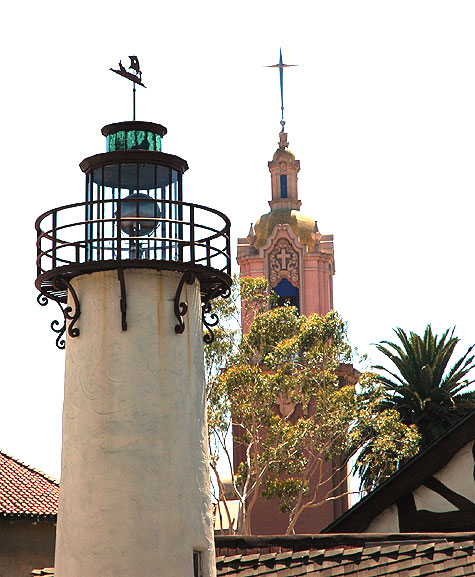 Mixed mode - new Thunderbird and an SUV, an old church, and the skyline of downtown Los Angeles - the late morning view from Los Angeles' Little Tokyo, 25 August -