The Eye: Looking Down on Ghosts
Topic: Historic Hollywood
---
The Eye: Looking Down on Ghosts
---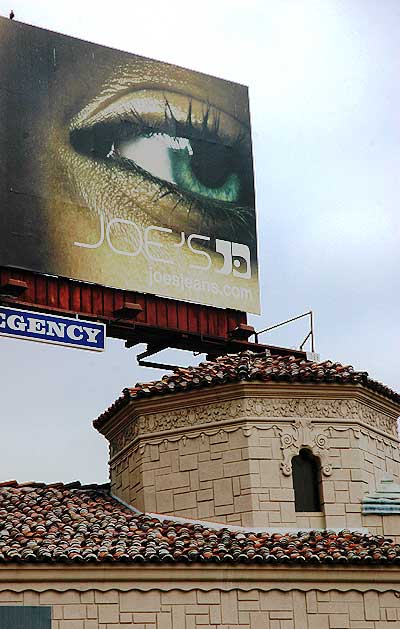 Tuesday, May 9, 2006 - a gloomy day in Los Angeles. The marine layer rolled in off the Pacific overnight and it's dark all day, until the sun burns off the murkiness in late afternoon. On the television one of the cable channels is running Arthur Dreifuss'
Riot on Sunset Strip
(1967). It's pretty awful - "A police captain (Aldo Ray) is caught between businesses operating on the Los Angeles Sunset Strip who don't like the punks hanging out, and his belief in allowing the kids their rights. But when his daughter (Mimsy Farmer) gets involved with an unruly bunch, his attitude starts to change."
But then it was filmed and released within six weeks of the actual rioting on Strip, one block south and one block west, on November 12, 1966. There are a few of shots of Pandora's Box, the old club, long gone - the site, at the southwest corner of Sunset and Crescent Heights, is now a bus stop, a little island of concrete. But the movie is awful. Mimsy Farmer? Better to get out, as dark as it is, and run some errands.
At the Chevron station, diagonally across the intersection from where Pandora's Box once stood, there is this eye looking down on the site. It's spooky. The eye is looking down on ghosts.
What ghosts? Behind the traffic island where Pandora's Box once stood there's a crappy strip mall, with McDonalds and El Pollo Loco and a bunch of smaller fast foot joints, and a big bank. This is where "The Garden of Allah" once stood. You can read all about it
here
- Joni Mitchell's song "Big Yellow Taxi" ("pave paradise, put up a parking lot") is supposed to be about the Garden of Allah, because Buffalo Springfield's song "For What It's Worth" is partly about the closing of Pandora's Box in 1966 to widen Sunset. (Mitchell and Neil Young both lived just up the hill in Laurel Canyon at the time.) And the front of the strip mall where the "Garden of Allah" once stood is where photographer Helmut Newton was killed in a car crash in July 2004, his silver Cadillac SRX rolling out of the Chateau Marmont across the street and into a pole. He'd had a heart attack.
"The Garden of Allah," was sort of an apartment complex - a series of bungalows and cottages. The private bungalows were filled, on and off, by the likes of Errol Flynn, Clark Gable, Greta Garbo, W.C. Fields, Humphrey Bogart, F. Scott Fitzgerald, the Marx Brothers, and Orson Welles. It's been said Tallulah Bankhead swam naked in the pool there, and Marilyn Monroe was discovered sipping a Coke next to the pool.
They're all dead, and the place is gone -
F. Scott Fitzgerald lived here in the beginning of his Hollywood decline. Zelda was installed in an expensive sanitarium somewhere back east, their daughter Scotty in public school, and a recently-recovered trove of studio material indicates that Scott was really working. (Everybody seems surprised that he cranked out more than 2000 hand-written pages in pencil.) Scott lived here in those years just before dating the young pastry named Sheila Graham and trying to finish The Last Tycoon and struggling to make sense of studio employment and fighting an uphill battle to stay sober by drinking a lot of Coca-Cola. In fact, Graham wrote a book-length book about the Garden of Allah, called "The Garden of Allah."

George Kaufmann stuffed himself in the back of a laundry truck to get from the Garden of Allah to the railroad station at the height of the Astor affair, to avoid a subpoena.

Robert Benchley set up his temporary Hollywood residence in the Garden of Allah, among other east coast writers when they came out west to torture themselves with illusions of quick easy movie cash, their anxieties uncoiling in the permissive climate. Benchley was leery of traffic and called taxis to take him everywhere - for instance, to Schwab's Drugstore, directly across Sunset Boulevard.
Schwab's Drugstore is gone too. It was closed in 1986 and ten years later replaced with a fancy complex anchored by a Virgin Megastore, with a six screen movie place and a California Pizza Kitchen. The eye is also looking at that.
See
this
-
In the movie "Sunset Blvd," William Holden's character calls Schwab's Drug Store "headquarters; a combination office, coffee klatch, and waiting room" for Hollywood writers. And so it was. F. Scott Fitzgerald (author of "The Great Gatsby") had a heart attack here in 1940, while buying a pack of cigarettes. Songwriter Harold Arlin wrote "Over the Rainbow" (from "The Wizard of Oz") by the light of the Schwab's neon sign. Charlie Chaplin and Harold Lloyd used to play pinball in the back room. And the rumor still persists that Lana Turner was discovered at Schwab's, but it isn't true.
Sic transit gloria mundi. But the billboard is cool.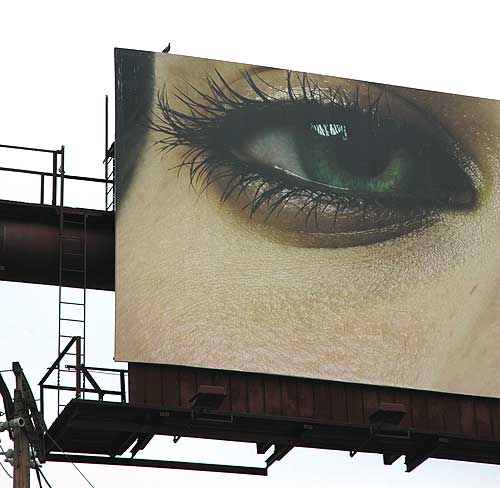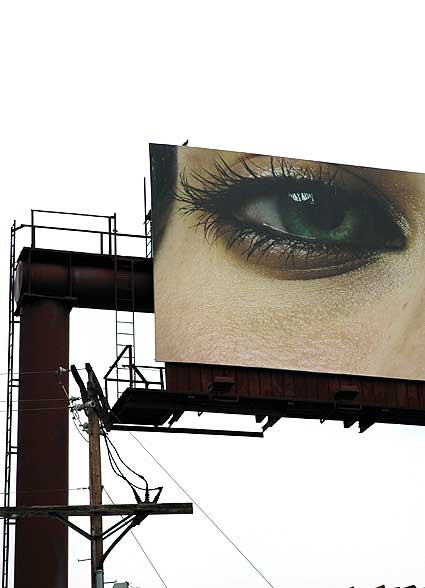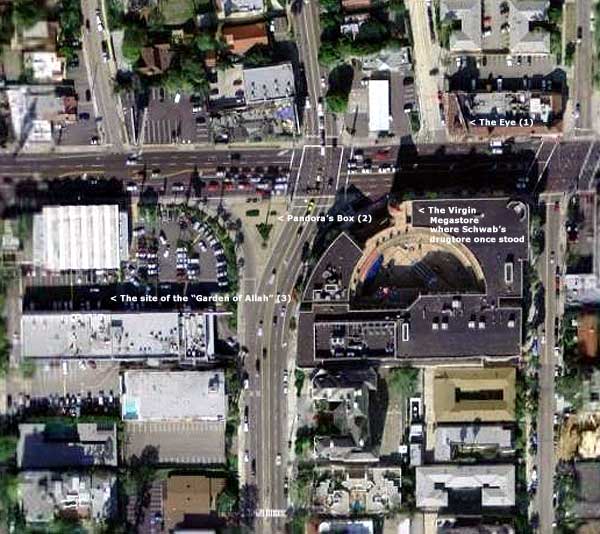 Footnote:

The Whisky A Go-Go website has a bit of interesting history of the Sunset Strip, reprinting a 1981 article by William Overend from the Los Angeles Times, from November 1981. The key section is this -
... As early as 1964, it looked like the last of the old days had ended, to columnist Paul Coates of The Times.

"Sun has set on the Sunset Strip," the headline read.

Coates recalled how in earlier years he could remember Humphrey Bogart and all the other glamorous movie stars living it up in places like Ciro's. When Bogart would bring his chauffeur into Ciro's with him and take his usual corner booth, that meant he was planning to do some "serious" drinking.

On the stage at Ciro's in the old days, wrote Coates, he had seen performers like Joe E. Lewis, Sophie Tucker and Pearl Bailey.

What he found in 1964, however, was "a gaunt little lass doing a frantic Watusi or whatever it is they're doing currently."

That was too much for him. "It used to be a glittering boulevard in the silly old days," he wrote. "Now it is just a rather seamy street."

As far as a lot of people were concerned, however, it just kept getting worse in the next few years.

Rock 'n' Roll changed things, most folks agree. Instead of the old movie stars and gangsters, the Strip was covered with teenage rockers.

Most of the old supper clubs and restaurants suffered serious losses because their old customers didn't want to be on the same street with the new Strip people.

The mere sight of them was almost more than Bruno Petroletti, one of the owners of the elegant Strip restaurant known as LaRue, could stand. "It's not a pleasant thing to see them walking around," he said in early 1968.

Responding to the menace, the sheriff's department started cracking down on the invading teenagers, arresting them by the truckload for curfew violations, but they just kept returning.

On Nov. 12, 1966, near a rock club called Pandora's Box at what was then the corner of Sunset and Crescent Heights, about 1,000 demonstrators protested the tight enforcement of the curfew laws.

Some threw rocks, others chased all the passengers off one bus and tried to set fire to another, and most of them didn't seem to have much respect for there elders. In retrospect, this may have been the low point in relations between teenagers and adults in Los Angeles.

While it wasn't much compared to what happened in Watts the previous year, it was generally described as a riot.

There were demands in the City Council for an investigation into the "Major uncontrolled rebellion" and a tough stand from County Supervisor Ernest E. Debs, who represented the area.

"Whatever it takes is going to be done," said Debs. "We're going to be tough. We're not going to surrender that area or any other area to beatniks or wild-eyed kids."

If they couldn't keep them off the Strip, they could at least stop them from dancing. That was the strategy worked out by Debs and Sheriff Peter Pitchess, who had vowed that his department wasn't going to be "reduced to a baby-sitting organization."

They appealed to the County Public Welfare Commission to take away the dance permits of the Strip's most popular rock clubs, among them, the Whisky A Go Go and Gazzarri's.

Even in the climate of the times, however, that idea was rejected. Instead, they 86'd Sonny and Cher, who had sided with the teenagers, from a ride in the Rose Bowl Parade that year.

They also demolished Pandora's Box.

Where Pandora's Box once stood, an access lane of Sunset now curves into Crescent Heights.

Lt. James Cook, operations supervisor for the West Hollywood station of the Sheriff's Department, still marvels at the job of road expansion that was done. "They bulldozed that sucker and paved it over," he recalls.

The violence inspired a movie called "Riot on Sunset Strip", which starred Aldo Ray and Mimzi Farmer, and led the Times to a glum assessment of the Strip's possible future.

"It is a sorry ending for the boulevard that once was Hollywood's most dazzling area," an editorial declared. "The boulevard may never regain its past glory."

But not everybody thinks the '60s were so bad, and you can even find some people who think they were the Strip's best years.
Maybe, but the movie about the riot was awful.