Wretched Excess: Another Ferrari in Malibu
Topic: Oddities
---
Wretched Excess: Another Ferrari in Malibu
---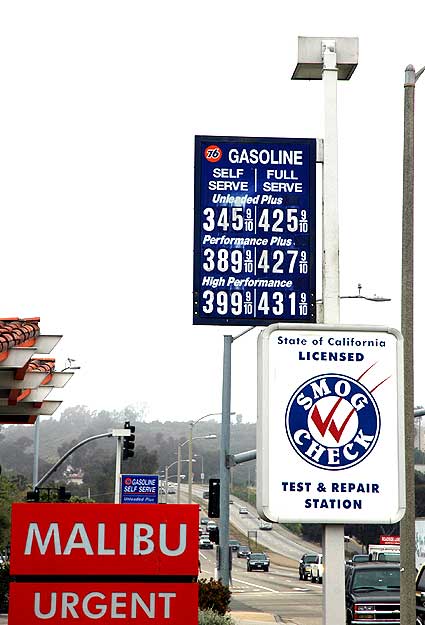 Pacific Coast Highway, Malibu, the stretch of highway where that crazy Swedish guy wrecked his rare Ferrari Enzo, snapping off a telephone pole at 162 mph and walking away from it all with just a cut lip. He's been arrested - the Ferrari wasn't really his, he was in the country illegally, he had an unregistered gun in the car, his electronic games company is bankrupt and all sorts of creditors are after him, and he already has a criminal record, having spent time in jail in Europe for fraud and such, before he became the CEO of the electronics thing.
He seemed to think coming to California and pretending he was cool, rich and successful would make it all better. This is where people reinvent themselves, after all. But he drove a bit too fast. It's kind of classic. They write songs about such things, like the Eagles' classic "Life in the Fast Lane" - the words of that number (
here
) will do nicely.
This is Thursday, May 18, 2006 - late morning with fog off the Pacific a few hundred feet to the left. Note the gas prices here a few feet from Malibu Colony where all the stars live. Business was fine, thank you. It doesn't matter.
Below, across the street at Malibu Creek Plaza, there was this parked by the local Starbucks - a Ferrari 456M. These were produced from 1992 through late 2003, and this may be one of the last, with its front-mounted 436-horsepower 5.5-liter V-12 (no mid-engine crap here), a top speed of 186 mph, and one of the better Pininfarina bodies. The original retail price was just shy of two hundred thirty thousand.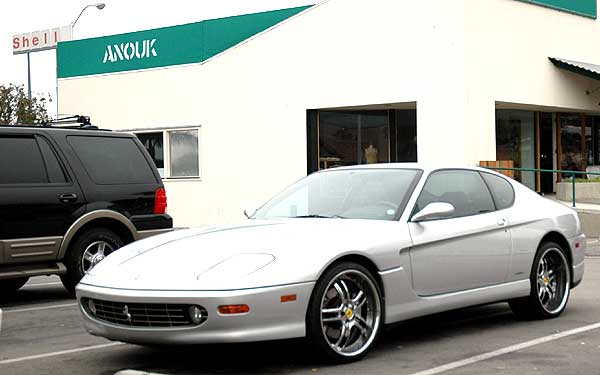 Contrasts - palm trees reflected in the glass, the Just Above Sunset staff Mini, and a surfboard.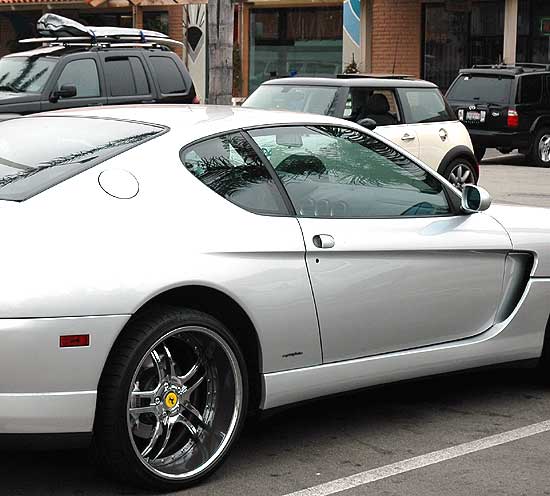 Note - they do have brakes. You can slow down, and even stop.