Kermit the Frog at Charlie Chaplin's Place
Topic: Insider Stuff
---
Kermit the Frog at Charlie Chaplin's Place
---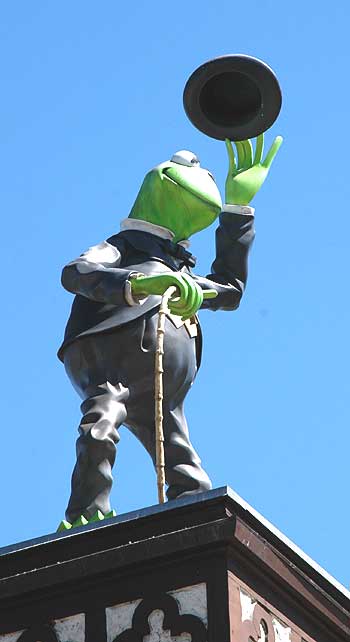 Kermit the Frog can be found at Charlie Chaplin Studios, on the northeast corner of La Brea and De Longpre Avenues, just south of Sunset Boulevard. Chaplin built his own Hollywood studio in 1918, and that's what this was until 1953. Then it became Kling Studios and they produced the old Superman television series with George Reeves. Red Skelton used the sound stages for his CBS variety show when CBS followed Kling as the owners of the place, and they filmed the Perry Mason series with Raymond Burr here. Then it became the home of A&M Records and Tijuana Brass Enterprises. A&M Records was formed in 1962 by Herb Alpert and Jerry Moss, and their first choice for a name was Carnival Records, but after two singles they got in trouble as another label had already taken the Carnival name. Oops.
A&M Records
is now down in Santa Monica, part of they Universal Music Group, with a catalog that includes the Carpenters, the Police, Barry White and Sheryl Crow. And Alpert has his jazz club, the
Vibrato Grill
high above Bel Air, up Mulholland Drive way.
The old Charlie Chaplin Studios is currently the home of The Jim Henson Company, as in the Muppets, as in Kermit the Frog. In 1969 the Los Angeles Cultural Heritage Board named the studio a historical cultural monument, and that explains why Kermit the Frog is on the roof dressed as Charlie Chaplin's tramp, sort of. It's a nod to history.
The history here, the Chaplin films - A Dog's Life (1918), and Pay Day (1922), and longer films, Shoulder Arms (1918) and The Pilgrim (1923), and the silent feature films, The Kid (1921), A Woman of Paris (1923), The Gold Rush (1925), and The Circus (1928). And there was City Lights (1931) and Modern Times (1936). Modern Times was the first film where Chaplin's voice is heard (in the nonsense song at the end). He wasn't big on the sound thing. But there was "The Great Dictator" (1940) - Chaplin played a fascist dictator who looked a lot like Hitler. Chaplin and Hitler were born only four days apart, but had different sorts of careers of course. All those films came from here.
You will find a bit on the Jim Henson Company
here
, being told it was founded in 1958 by puppeteer Jim Henson, creator of the Muppets. The company is now run by his son Brian and daughter Lisa, who serve as co-chairs and co-CEOs. The company's units include Jim Henson Pictures, Jim Henson Television, Jim Henson Records, and Jim Henson's Creature Shop. That's what's here now. Kermit the Frog was the mascot for the Jim Henson Company until the sale of the Muppet characters (just the rights to use the characters) to the Walt Disney Company, but Disney seems to have no problem with Kermit in this non-Disney context. It's history.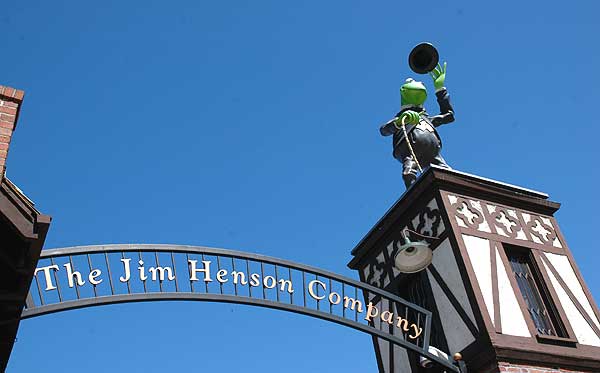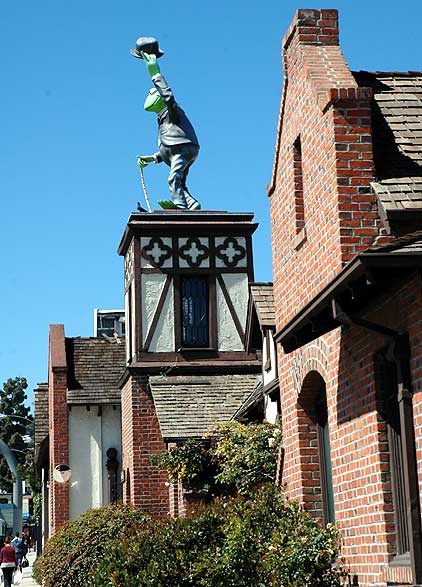 The neighborhood? Across the street there's a strip joint, and above it a billboard for the current hot movie - Tom and Audrey (shown here), in Paris, hot on the trail of the clues to the real story of Jesus and Mary Magdalene and what the Catholic Church really doesn't want you to know (aside from the priests and the young boys). Jesus had children? It's hack suspense fiction - it's Agatha Christie fused with dark suspicions of the Catholic Church (or so says Andrew Sullivan), but this is really odd product placement.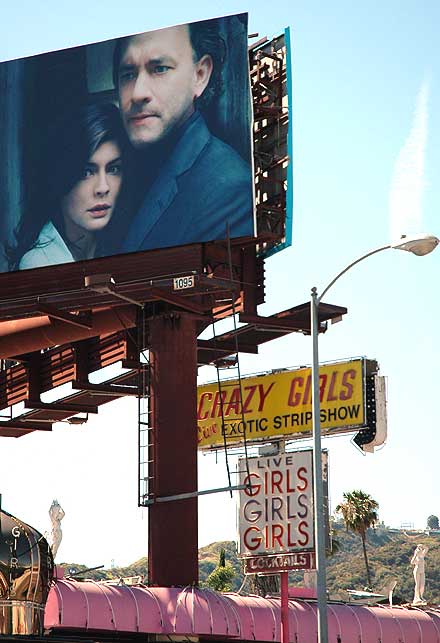 Music Footnotes

When A&M Records was active at this site, a popular French singer, Mylène Farmer, recorded an album here - Anamorphosée (1995). Farmer is one of those sex kitten types, and perfect for Hollywood. She was born to French parents in Pierrefonds, in Quebec, a suburb of Montreal, and they took her back to France when she was eight. But she spends time out here as she likes it out here. You see, her birth name is Mylène Gautier, but she chose her stage name Farmer in homage to Frances Farmer, of all people. That's so Hollywood. Hardly anyone in America has ever heard of Mylène Farmer of course.

The number seven song in France in 1996 was from this La Brea studio album, Anamorphosée. It was called "California." The music video is amazing (you can watch it here) - all the exteriors shot on the Sunset Strip, within a few blocks of the desk where these words are being written. There's an opening shot of the Coconut Teaser, at Sunset and Laurel Canyon, and that's gone now, but all of the rest is still out there, just down the street. It's very edgy. It's very arty (or very pretentious, if you prefer). It's very sexy. It very LA. And it's quite French.

From the lyrics -
Sex appeal, c'est Sunset
C'est Marlboro qui me sourit
Mon amour, mon moi, je
Sais qu'il existe
La chaleur de l'abandon
C'est comme une symphonie

C'est sexy le ciel de Californie
Sous ma peau j'ai L.A. en overdose
So sexy le spleen d'un road movie
Dans l'rétro ma vie qui s'anamorphose
You get the idea.
C'est sexy le ciel de Californie
, except for Kermit the Frog up there.
And as for what Herb Alpert is up to these days, see
this
. The recording genius, and perhaps the worst trumpet player ever to make a hit record (he was awful), is joining the tragically hip and doing a remix album -
Herb Alpert wasn't too jazzed when he heard about a remix of his classic "Whipped Cream and Other Delights" album - until he tasted some of the new cuts.

He liked what he heard, and the trumpeter and music-industry pacesetter threw his weight behind the new version of the toe-tapping, genre-bending album that featured Grammy-winner "A Taste of Honey" and "Whipped Cream," and other food-oriented treats.
God help us all - a club remix of "Tijuana Taxi" is not what we need.