An Odd Hollywood Star
Topic: Landmarks
---
An Odd Hollywood Star
---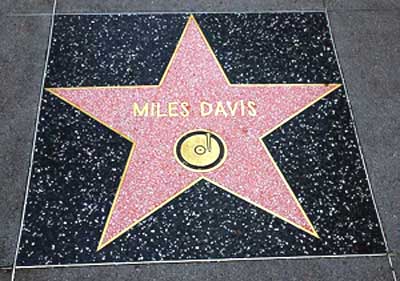 Friday, May 26, 2006, and Miles Davis would have been eighty today. This is his star on the Hollywood Walk of Fame on his birthday. It's on south side of the street, just west of Sycamore. The local jazz station, KJZZ out of Cal State Long Beach, was playing his music all day.
The Wikipedia has most everything you might want to know about Miles Dewey Davis III (May 26, 1926 - September 28, 1991), at least the highlights,
here
, including this detail -
Miles Davis was born into a relatively wealthy African-American family living in Alton, Illinois. His father, Miles Henry Davis, was a dentist, and in 1927 the family moved to a white neighborhood in East St. Louis. They also owned a substantial ranch, and Davis learned to ride horses as a boy.

Davis's mother, Cleota, wanted Davis to learn the violin - she was a capable blues pianist, but kept this hidden from her son, feeling that "negro" music was not sufficiently genteel. At the age of nine, one of Davis's father's friends gave him his first trumpet, but he did not start learning to play seriously until the age of thirteen, when his father gave him a new trumpet and arranged lessons with local trumpeter Elwood Buchanan and, later, a man named Mone Peterson. Against the fashion of the time, Buchanan stressed the importance of playing without vibrato, and Davis would carry his clear signature tone throughout his career.

Clark Terry was another important early influence and friend of Davis's. By the age of sixteen, Davis was a member of the musician's union and working professionally when not at high school. At seventeen, he spent a year playing in bandleader Eddie Randle's "Blue Devils". During this time, Sonny Stitt tried to persuade him to join the Tiny Bradshaw band then passing through town, but Cleota insisted that he finish his final year of high school.

In 1944, the Billy Eckstine band visited St. Louis. Dizzy Gillespie and Charlie Parker were members of the band, and Davis was taken on as third trumpet for a couple of weeks because of the illness of Buddy Anderson. When Eckstine's band left Davis behind to complete the tour, the trumpeter's parents were still keen for him to continue formal academic studies.

... In 1944 Davis moved to New York City, ostensibly to take up a scholarship at the Juilliard School of Music. In reality, however, he neglected his studies and immediately set about tracking down Charlie Parker.
And the rest is history.
The connection to Hollywood? He was married to actress Cicely Tyson in 1981 and they were divorced in 1988. And Davis was the very first subject of a Playboy magazine interview - the interviewer was Alex Haley. Playboy's Heffner lives out here of course. The
Playboy Jazz Festival
hits the Hollywood Bowl in a few weeks. A Hollywood sidewalk star will do nicely.
Previously in these pages see
Something for a Hot Day in Los Angeles
, from last July, a discussion Louis Malle's first film, "Elevator to the Gallows" - with its Miles Davis score. And two years earlier,
this
on that film score, now available on CD -
The album is rather fine. Moody, "cool" and spare late fifties jazz. It holds up well. It's a lot freer and less mannered than the stuff on the album that is so famous. It's better, and sounds just fine now. Odd that when I hear it I know this is what is known as the "West Coast Sound," born here in Los Angeles with The Birth of the Cool album. Recorded in Paris for a French film, this might just as well have been recorded at the old Lighthouse in Hermosa Beach.
Cool. And note that for the birthday there's a new four-CD boxed set available,
Miles Davis - The Legendary Prestige Quintet Recordings
. From the mid-fifties you get Davis with John Coltrane, Red Garland, Paul Chambers and Philly Joe Jones. All recorded by Rudy Van Gelder at Van Gelder Studio in Hackensack, digitally remastered in from the original analog masters, with bonus CD of eight previously unavailable radio and television audio performances - two tunes from The Tonight Show With Steve Allen among others. The cover art is by Davis - the painting "New York by Night" - and you five complete transcriptions of Davis' solos. Buy it? Just a thought.
The Hollywood Boulevard palm trees looking down on the Miles Davis star.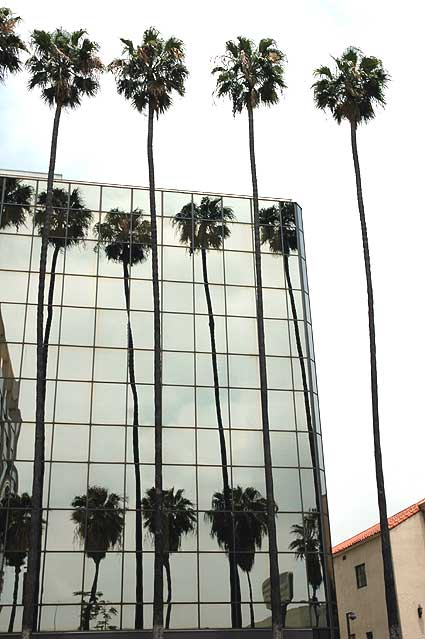 And Marilyn Monroe is showing off for him.