Things That Aren't What They Seem, or Are
Topic: Oddities
---
Things That Aren't What They Seem, or Are
---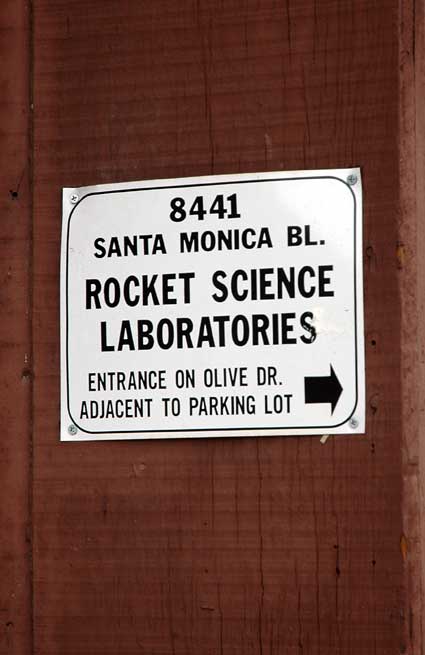 A reality television production company - Rocket Science Laboratories gave us the reality shows Joe Millionaire, Temptation Island, and My Big Fat Obnoxious Fiancé. They've got this little sign by the door, but no other indication they're inside. This is the only sign. It's very mysterious. But in 2003 the company entered a multi-year overall production deal with the FOX Broadcasting Company. Rocket Science Laboratories was founded by partners Jean-Michel Michenaud and Chris Cowan, who, given what they named their company, obviously have a sense of humor. What they do is not exactly rocket science, as they say. In fact, it's somewhat the opposite, and has made them rich. They seem to enjoy the joke.
They're just down the street, on Santa Monica Boulevard, next to Barney's Beanery, where one night Janis Joplin had a few drinks (two screwdrivers) before she went up the hill to the old Landmark Theater, played a few sets, and died. She was not a rocket scientist herself.
Rocket Science Laboratories
8441 Santa Monica Blvd.
West Hollywood, CA 90069
__
Next?
Stephanie Mata has this store around the corner from the Groundlings Theater on Melrose Avenue. And it's true. The
LA Weekly
says
this
about her -
With 20 years of coddling VIPs, hard-assing too-cool-to-pay-a-cover scenesters and managing everything from crowd control to the cash box at Hollywood's most rockin' nightclubs, Stephanie Mata, who currently works the Viper Room and Key Club, knows all when it comes to the dynamics of the door. The store owner (she's got a by-appointment-only shop below her Melrose apartment called the Never Open Store)/mother/door diva supreme has manned the entrances of some legendary joints over the years, including metal haven the Cathouse, the retro-à-gogo 1970 and the Pretty Ugly Club, to name a few. And though the locales have changed, the stuff coming out of people's mouths definitely has not. "The worst possible thing you can say at the door, and people always do, is 'I know so-and-so...' or 'I'm friends with so-and-so?' If I hear that, I usually let 'em have it." Mata says, even if it is a friend, "no one gets in for free all the time at my door," and she has no qualms about asking pals to kick down when necessary. After all, "clubs are there to make money," she says. Toting her ever-present clipboard, Mata is one of the few women you'll actually see out in the trenches (as opposed to inside the club, sheltered in a booth or behind a table), and her straightforward, no-bullshit approach commands respect, often striking fear into the hearts of even the burliest male club-hoppers. Still, even those who've endured her wrath seem to respect her sharp-witted and vivacious demeanor, traits that have surely helped her stay in the biz for so long. "All I have is my personality," she says. "But I come from the school of 'the customer is always wrong,' so I'm really not cut out for a traditional job. I'll probably end up the world's only 100-year-old door girl."
Her store reflects her personality, doesn't it?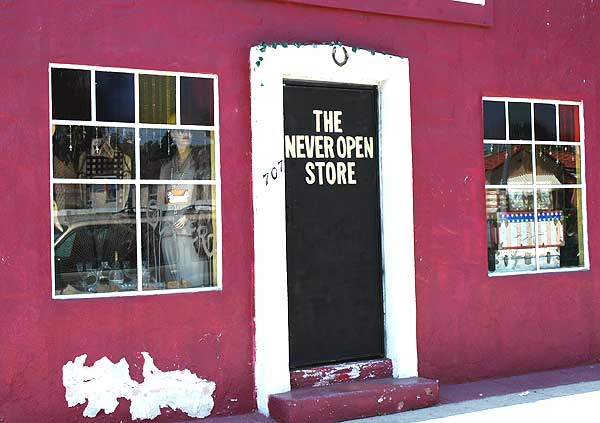 Playa del Rey, late April. Well, duh!