Getting Along
Topic: The Movies
---
Getting Along
---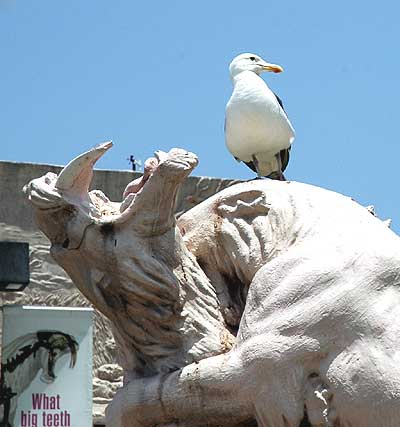 Los Angeles is a diverse place, where it's live and let live, and you disregard differences. The recent Oscar-winning movie
Crash
had it all wrong. Best Picture? We're not at each other's throats, full of not very suppressed racial and ethnic distrust. Most everyone is just doing what they do - off to work, home to the family, shopping for groceries and all the rest. We even talk to each other. But "message movies" need settings, and for this one Los Angeles was good enough (see the county's demographic profile in the tables
here
).
We do get along, taking seriously what has to be taken seriously, and ignoring the rest. The Oscar-winning movie was made by a Canadian. What does he know?
Note this gull, down on Wilshire at the La Brea Tar Pits. He knows real threats from fake Hollywood crap, set up to scare the rubes. (Photo from July 10, 2005.)
And what about this scene in "Thai Town" - Hollywood Boulevard at Western Avenue, captured on July 23, 2003 - where the fellow walking is unconcerned about the mixed message regarding cuisine. Whatever.