At the Walt Disney Concert Hall Garden
Topic: Landmarks
---
At the Walt Disney Concert Hall Garden
---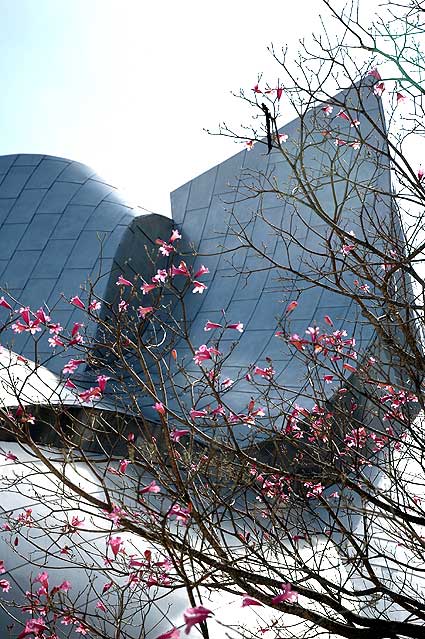 The Walt Disney Concert Hall in downtown Los Angeles, taking up the whole block bounded by Hope Street, Grand Avenue, 1st and 2nd Streets, is the home of the Los Angeles Philharmonic Orchestra and the Los Angeles Master Chorale. It's a Frank Gehry building and around the time it opened, on October 23, 2003, there were a few photos and reviews of the thing in these pages
here
. From January of this year you'll find a long shot of the building, in its context,
here
(bottom of the page). The Los Angeles Philharmonic used to perform at the Dorothy Chandler Pavilion across the street, a dead hall with lousy acoustics, and everyone says this one is not only better, it's wonderful. Reviews of the exterior are mixed.
The place looks a bit like Gehry's Guggenheim Museum in Bilbao, Spain, which is covered in titanium (see
this
). The Los Angeles building, designed first but completed later, is covered in stainless steel.
That was
a problem
-
After the construction, additional expenses were incurred to correct the design flaw caused by the concert hall's unique choice of polished stainless steel covering concave surfaces. Residents of the neighboring condominiums suffered significant glare caused by the sunlight that was reflected in the manner similar to a parabolic mirror. The sunlight made the rooms of some nearby condominiums unbearably hot, and caused the air-conditioning costs of these residents to sky-rocket. Also during certain points of a sunny day the reflective surfaces caused the temperature of some adjacent sidewalks to rise to almost 140 degrees Fahrenheit. After complaints from neighboring buildings and residents the county government stepped in and asked Disney to come up with a solution, their response was a computer analysis of the building's structure, after the offending surfaces were identified, they were sanded to reduce glare in 2005.
And that makes it an odd place to have a pocket park, but they have one, the small Walt Disney Concert Hall Garden, on the east side of the building. What grows there are species that thrive in full, brutal sun. Anything else would get cooked dead - even after dulling the reflective steel panels it's viciously hot there.
These shots are from Thursday, April 20, late morning. More will follow in this Sunday's
Just Above Sunset
. This is just a taste.
This is spring in Los Angeles.
__
A coral tree -
Erythrina x sykesii
- native to Australia, so they like this place.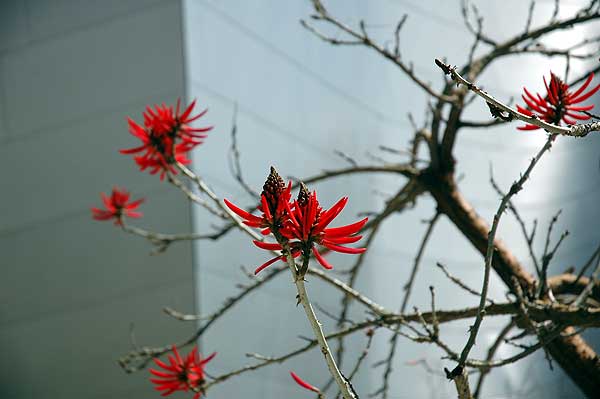 Here's a shady spot -