The Industry in One Block: Melrose at Bronson
Topic: Historic Hollywood
---
The Industry in One Block: Melrose at Bronson
---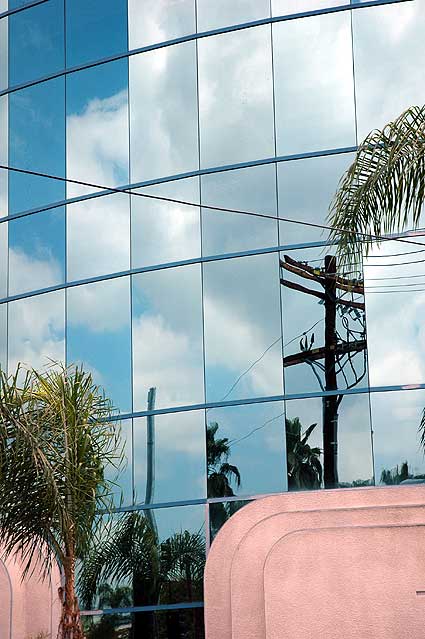 On the right, light and shadow on the new façade of
Raleigh Studios
, at the corner of Melrose Avenue and Bronson in Hollywood, in the scruffy flats below Hollywood Boulevard, below Sunset Boulevard too, a long block south of even Santa Monica Boulevard. In a mixed industrial and residential area, Raleigh Studios isn't open to the public. There's work to do here, and this is the longest continuously operating studio in the country, having stared operations in 1915 with a Mary Pickford production. With the talkies Raleigh Studios had one of the world's first soundstages - with a glass top so light could enter without disrupting sound recording. It's changed ownership many times, and lots of people called it home at one time or another - Douglas Fairbanks, Lillian and Dorothy Gish, Walt Disney and Bette Davis (the interiors for her creepy, second-rate
Whatever Happened to Baby Jane?
were filmed here).
These days it's mostly television, commercials and independent films at Raleigh Studios. This is the home of the old television series - Superman, Gunsmoke and Perry Mason. But
here
you see some famous films were made here - "In the Heat of the Night" (1967 Best Picture), "The Best Year of Our Lives" (1946 Best Picture), and "A Start is Born" (the first one, 1937, with Janet Gaynor).
It's a curious place, and, behind the streamlined new glass building in front, the old bungalows are still there, from the early days, with regular folks just going to work in a strange industry.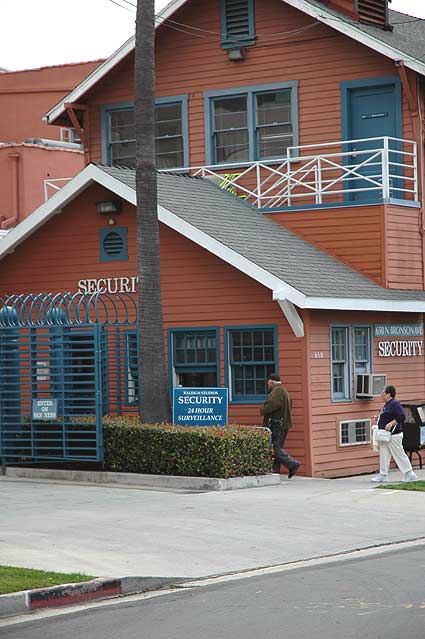 Across the street is the more famous Paramount Studios that started back in 1913 in a rented horse barn up the hill near Sunset and Vine. Paramount moved down here in 1926, into an existing studio built in 1917 - then just got bigger and bigger. They absorbed the old RKO studios next door and now the studio and lots cover many acres, and five thousand people work here. And they offer a two-hour walking tour, if you're into such things - "The Sheik" with Rudolph Valentino (1921) was filmed here, and the two major versions of "The Ten Commandments," and all the Star Trek shows and movies. You might find some of that interesting. Their website is
here
, and
here
you'll find a complete history of the studio and a list of the hundreds of famous films made here.
This, below, is the Bronson Gate, just across the street from the older Raleigh Studios, with regular folks just going to work. This is the gate they had to reinforce after a mob of overly enthusiastic female fans of Rudolph Valentino overwhelmed security and climbed over the original unfortified gate (nearby statues honoring that fellow
here
). Trivia? Many years ago a young actor, one Charles Buchinski, decided to take his stage name from this gate, and became the more marketable Charles Bronson. Amusing.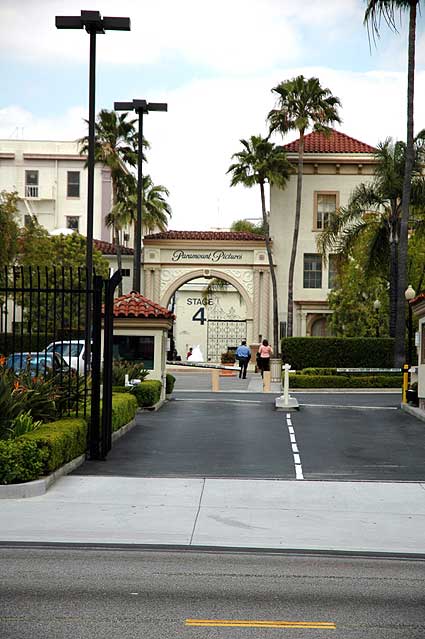 Further up the block is the more frequently photographed Melrose gate. Yeah, yeah. A stock shot.
These photographs are from Thursday, April 6, 2006, just before noon.