Architectural Studies, Downtown Los Angeles
Topic: Light and Shadow
---
Architectural Studies, Downtown Los Angeles
---
Library Tower, the tallest building west of the Mississippi, looms over the old Biltmore Hotel on Pershing Square. (It's called the Library Tower because it was built just behind the main public library downtown - it's more properly the US Bank Building at the moment.)
This is an odd shot from January 26, 2006, previously unpublished.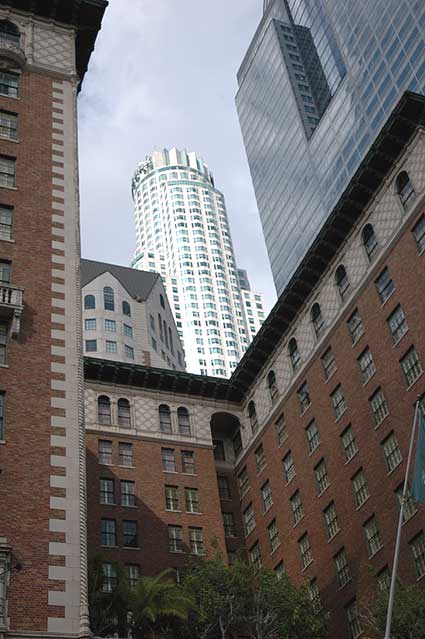 And below, Frank Gehry's Walt Disney Concert Hall (detail) in downtown Los Angeles from the month it opened, October 2003. Architectural notes below the image.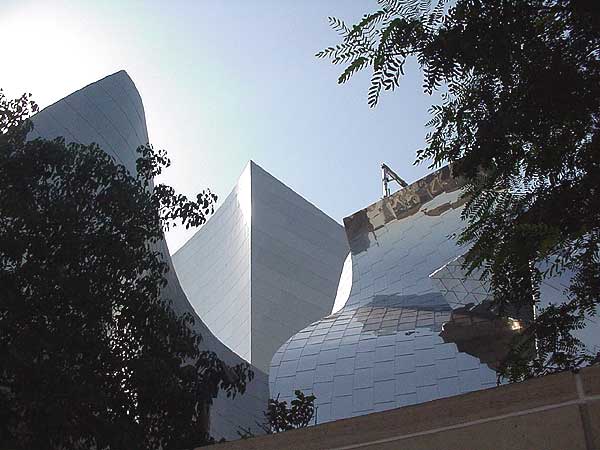 The Los Angeles Philharmonic's home, Frank Gehry's building, the Walt Disney Concert Hall in downtown Los Angeles, opened in mid-October 2003 after twenty-six years of arguing and odd fund-raising and various disputes.
To European readers it may look a whole lot like his Guggenheim Museum in Bilbao, Spain. Gehry designed this building first, starting with preliminary designs in 1987, but the museum in Spain had an easier time getting from idea to reality, so to speak. When the Guggenheim in Bilbao opened in 1997 the Disney family here, in fact, Walt's widow Lillian, along with some other donors, threw in some serious money, to add to the fifty million that started the project ten years earlier. And, two hundred seventy-four million dollars later, they got this building done.
The two buildings have a lot in common. These are jumbled masses of "organic forms" wrapped in shiny, windowless metal panels. The Guggenheim Museum in Bilbao is wrapped in titanium. Here the façade was originally going to be limestone, but that was too expensive, or would not do at all with the earthquakes we sometimes have out here, so we get brushed stainless steel.
It sounds just fine - a Japanese acoustician named Yasuhisa Toyota worked with Gehry and it's an excellent, warm, "live" hall.
All the art and architecture magazines have other pictures, and cutaways and floor plans. National Public Radio did a segment a few days ago on the French 3-D CAD-CAM software the builders used. The
Christian Science Monitor
said, "It looks like an exploding metal artichoke." The
New York Times
' Herbert Muschamp said it was "a moon palace" bathed in "the light of the Hollywood dream." Whatever. It's just a pretty cool building.
Gehry is in his late seventies. He's lived out here for sixty years. I'm sure he's smiling.
Other comments:
"The Disney Hall has been likened to a silver galleon with full sails billowing in the wind. Its abstract shapes provide a brilliant contrast to the conventional high-rise towers of downtown L.A." - Marcus Binney,
London Times
"Its silvery cascades are one of the most beautiful sights anywhere in the U.S. If you have seen the Grand Canyon, another sun-drenched, curvy thing of hypnotic power, you have some idea of what Disney Hall is like? Gehry's design thoroughly digests the Western architectural vocabulary without quoting literally from it. The free-form silhouette is just right for a concert hall in multiethnic Los Angeles, a city that doesn't look to Europe for much beyond designer shoes.... What he did was a classical hall for an anticlassical city. In Bilbao, his curves make you think of the Spanish baroque. In L.A., they bring to mind all those magic wands in Disney sketching silver arcs in the air." - Richard Lacayo,
Time
"Though the Bilbao museum is undeniably a work of genius, Disney Hall is more mature, more focused, more polished, and more thoroughly resolved as a single experience; and it is better executed in its details. Everything in this rich and complex orchestration of surface and volume, light and shadow, comes together with an assurance and authority that I found astounding... [Gehry] can now, in my view, be counted safely among the most talented builders of the ages, comparable to the great impresarios of inventive architectural form." - Martin Filler,
New York Review of Books
"Disney Hall is a defining masterwork - because of [Gehry's] love for music, for Los Angeles and for his art. Its roller-coaster swoops and gleaming curves seem to mirror his formidable energies and ambitions." - Cathleen McGuigan,
Newsweek
"The technique is Cubist. No seamless image reveals the whole. Disney Hall must be assembled within the mind piece by piece as you approach and walk around it. A Surrealist ethos also suffuses the design: the imagineering impulse of Disney as well as of Magritte. Pumpkin into carriage, cabbage into concert hall, bippidi-bobbidi-boo... Metamorphosis happens, and not only in Walt Disney's classic films. Cities do it all the time. Los Angeles has done it now. The building pulls together the strands of many individual stories and creates an extraordinarily gallant setting in which they can be screened." - Herbert Muschamp,
New York Times
"The chief amenity, if it can be called that, is its almost spellbinding beauty. Gehry's is an art of built-in surprises. He desires the surprise of the immediate 'Wow!' And he strives for the delight of longer contemplation. Disney Hall provides both. So, do not be deceived by the beautiful photographs, for as splendid as they can be, they always tend to mask the immense variety of spaces, surfaces and light of the real thing." - Benjamin Forgey,
Washington Post
"The outside of Disney Hall lifts the spirits of those who see it from the sidewalk or, this being Los Angeles, from the windows of their cars, and the inside is equally inspiring. The auditorium is the finest interior Gehry has ever made... It may be that restaurants, stores, and housing will rise up around Disney Hall and transform the neighborhood into the urban mecca that so many people seek, but I wouldn't bet on it, and it doesn't matter. Disney Hall is something rarer than a great urban street. It is a serene, ennobling building that will give people in this city of private places a new sense of the pleasures of public space." - Paul Goldberger,
The New Yorker
Restaurants, stores, and housing have now risen up around Disney Hall. Downtown is booming, actually becoming a real city.
__
Mixed mode - looking up from Pershing Square. January 26, 2006.