Hollywood Places
Topic: Landmarks
---
Hollywood Places
---
Tuesday, March 14th, late afternoon, running errands in the neighborhood, had the camera along, and pulled over for a quick shot of Chicago West - down on Melrose Avenue, the Second City studios, stages and offices. Yeah, they're the
Chicago outfit
that fed Saturday Night Live the likes of the late John Belushi, who died up the hill at the Chateau Marmont from the drugs. This is the Hollywood branch. No stars today. Just another storefront and parking lot.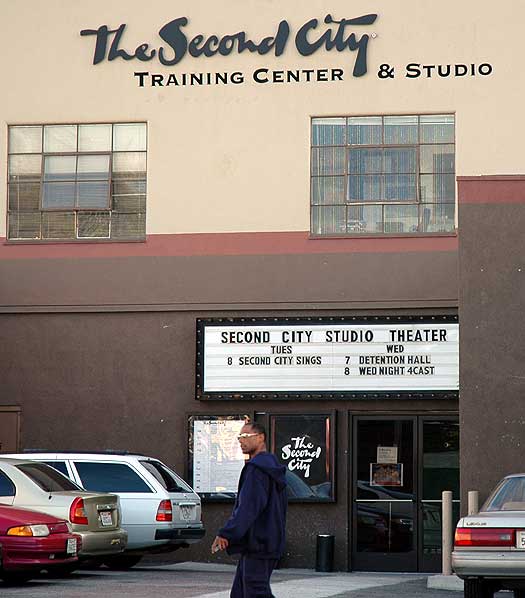 The parking lot belongs to "The Improv" next door, thus the faces.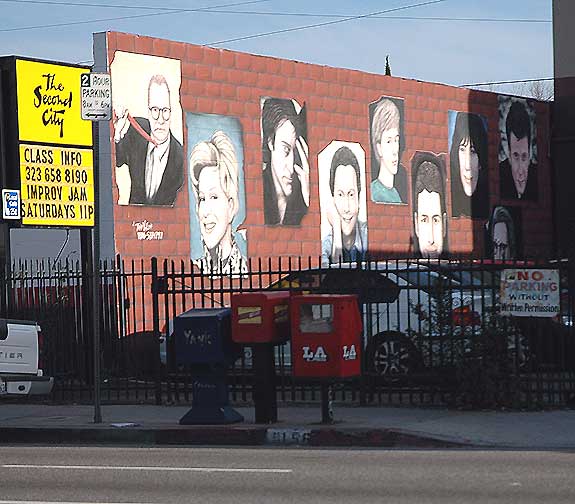 Next door is the "The Improv" - the big comedy club in Los Angeles. Everyone has played the Improv, as it's been here since 1974 - Steve Martin, Richard Pryor, Woody Allen, Robin Williams, Jerry Seinfeld, David Letterman, Bill Cosby, Chevy Chase, Milton Berle, Dudley Moore, Lily Tomlin, Jay Leno, Billy Crystal, Dana Carvey, Drew Carey, Joan Rivers, David Steinberg, the Smothers Brothers, George Carlin, Steve Allen, Redd Foxx, David Brenner, Richard Lewis, Dick Cavett, Freddy Prinze, Rodney Dangerfield, Robert Klein, Phyllis Diller, Marty Feldman, Martin Mull, David Spade... and even Liza Minnelli. Before they became "stars" Debra Winger and Karen Black worked as waitresses here. Or so it says
here
.