Raining in Los Angeles
Topic: Light and Shadow
---
Raining in Los Angeles
---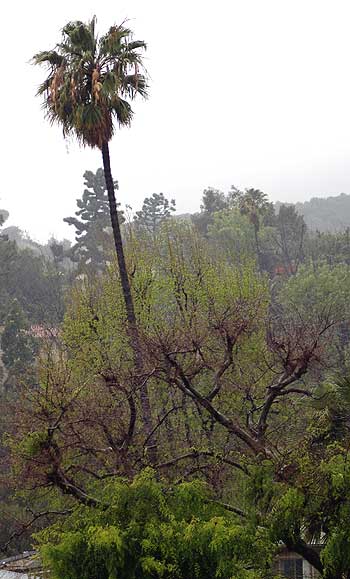 A steady, heavy rain all day - they call this the Pineapple Express. There's a big low sitting up above San Francisco, rotating counter-clockwise, pulling whatever is offshore down here onshore, and what's offshore down here is an old storm that formed south of Hawaii and drifted westward.
So the warm rain all day, which should total two or more inches by midnight, is what was lifted out of the Pacific over the last few days, pulled ashore by the onshore circulation of the northern low, and it's falling here. It doesn't pass us by. The wall of mountains at the eastern edge of Los Angeles County, that separates us from the rest of the continent, stops the storm dead right over the Los Angeles basin. It'll sit here for a while.
The freeways are at a dead stop here and there - people being careful. Now it matters that there's not much tread left on the tires, which were fine when it was sunny and in the eighties for months on end. And all that sunshine messed up the windshield wipers - the ultraviolet made them all chalky (and the ozone in the hot smog made the brittle). Can't make any sudden moves, and can't see that well. It's a slow drive out there. And Hollywood looks like the set of a noir film from the late thirties.
But this washes away all the desert dust that blew in off the Mojave when the winds, week after week, blew the other way - and the landscape, called Mediterranean and savanna mixed, suddenly looks kind of lush.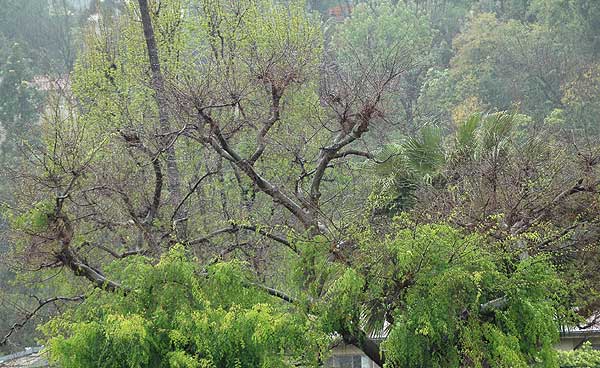 The wall of mountains at the eastern edge of Los Angeles County, that separates us from the rest of the continent - Big Bear Mountain from Mulholland Drive, as seen from the tourist lookout above the Hollywood Bowl, last Thursday, when the wind was blowing the other way. The Hollywood Sign is out of the frame to the left, the Griffith Park Observatory out of the frame to the right. This is looking between them. (The shot was taken while standing amid a crowd of elderly tourists visiting from Germany, chattering away in that language. They seemed impressed, but my German isn't that good.)