Not Hollywood: Encinitas on a Quiet Afternoon
Topic: Oddities
---
Not Hollywood: Encinitas on a Quiet Afternoon
---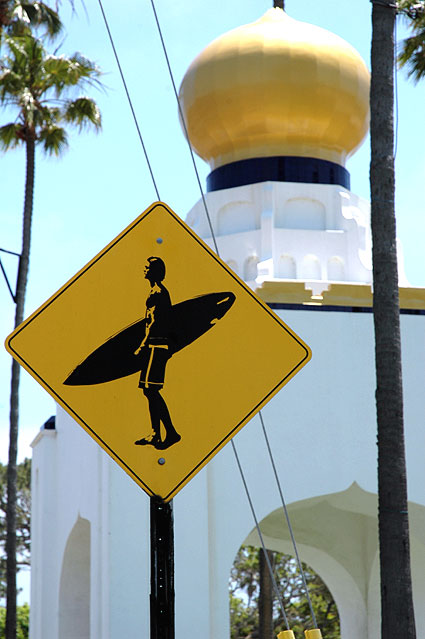 A taste of the strangeness of Southern California, on Friday, June 2, 2006 - seen driving down the coast toward San Diego, a traffic sign you won't find in Ohio, a "Surfers Crossing" warning on the coast road, Highway 101, in Encinitas, at the Self-Realization Fellowship Ashram Center.
What? That's
this
-
"Paramahansa Yogananda established the Self-Realization Fellowship Ashram Center in Encinitas in 1937. Here, at the Hermitage where he lived for many years, he wrote his
Autobiography of a Yogi
, widely regarded today as a modern spiritual classic. The Ashram Center and nearby Temple are located on the Pacific Coast, 100 miles south of Los Angeles and 25 miles north of San Diego."
The gardens are nice. And the City of Encinitas has a nice park on the south side of the ashram, Swami Park.
Far below the gardens there are the surfers of course.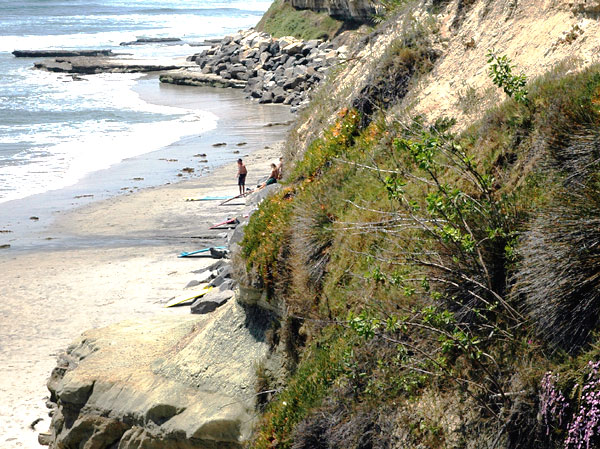 Drive south to downtown Encinitas, and you will find the
La Paloma Theatre
, a Spanish Mission thing built in the twenties. It opened with the film
The Cohens And Kellys in Paris
- February 11, 1928, and the rumor is that Mary Pickford rode her bicycle all the way to the La Paloma from Fairbanks Ranch for the opening. And she wasn't even in the film. It seats four or five hundred, and still has the Kilgen Wonder Organ from the days of the silent films and the opening vaudeville stage act. The stage is still in use. Jerry Garcia played here. So did Eddie Vedder. They show offbeat films, and, of course, show
The Rocky Picture Horror Show
every Friday night.