New Eye on Hollywood
Topic: Technical Exercises
---
New Eye on Hollywood
---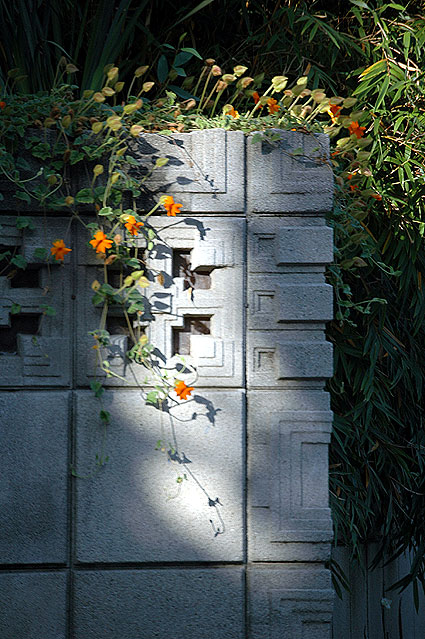 Testing the new lens - AF-S DX Zoom-Nikkor, 55-200 mm f/4-5.6G ED. It just came today. Don't like it much, but getting the most from it will take some time.
Here are some test shots, using the polarizing filter that came with the thing.
The Storer House
Frank Lloyd Wright, 1923
One of the homes in Los Angeles designed by Frank Lloyd Wright, a textile block thing, the blocks cast on site with Wright supervising that himself - on Hollywood Boulevard, but not the part you know. This house is on the right at 8161 – in the trees high above the Sunset Strip, a half a mile west of here. The home is now owned the movie producer Joel Silver, responsible for such things as the Lethal Weapon and the Die Hard series of shoot-'em-ups. But Silver seems to be committed to restoring the home to its original condition - and, in fact, he is working in conjunction with Eric Lloyd Wright on that. The edge of the driveway, six in the evening, Monday, June 5, 2006.
Below, two pigeons keeping an eye on Hollywood Boulevard -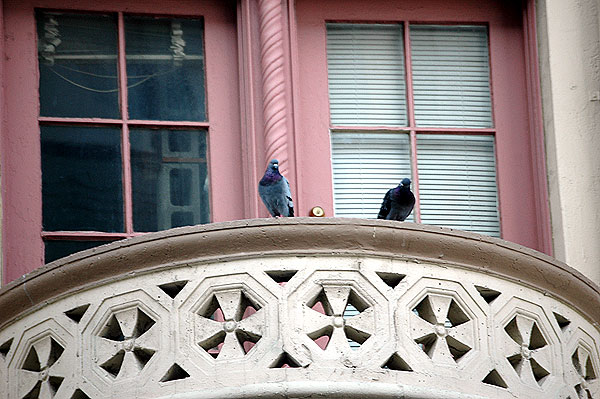 The abandoned Fredrick's of Hollywood flagship store on the boulevard -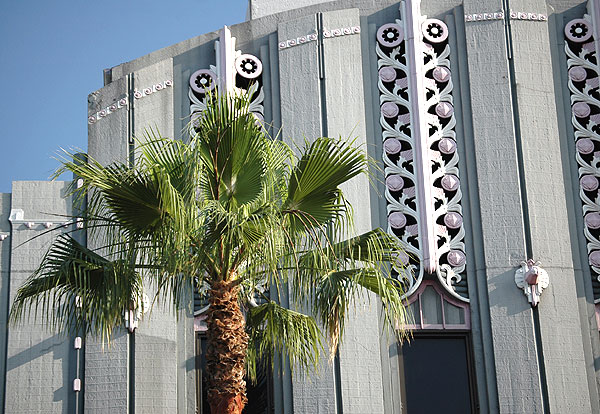 It's across the street from Musso and Frank, where, when they were writing screenplays back in the late thirties and early forties, Faulkner, Fitzgerald and the rest used to hang out - John O'Hara, Dorothy Parker, Dashiell Hammett and Raymond Chandler - even Ernest Hemingway. Raymond Chandler wrote "The Big Sleep" here. Long ago, silent-movie star Tom Mix used to sit next to a window here, so his fans could see him. Charlie Chaplin liked their martinis - he and Paulette Goddard were regulars. Humphrey Bogart, the Warner brothers, Jack Webb and Peter Lawford also could be found here. In the 2001 version of "Oceans 11" there's a scene where George Clooney and Brad Pitt first discuss the Vegas heist in one of the booths. Now? Tom Selleck likes table 24, while Al Pacino prefers table 28. Whatever. This is just a test of the new lens.