More Blue
Topic: Color Studies
---
More Blue
---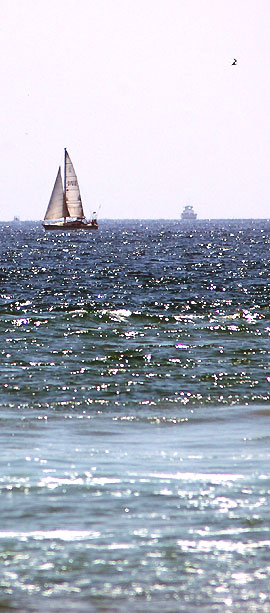 If you visit
Just Above Sunset
, the weekly magazine-format parent to this website, you'll find scads of new photographs there, including amazing shots from our correspondents in Paris and Tel-Aviv. And there are all new high-resolution botanicals, and new architectural shots. That issue was posted mid-afternoon, Pacific Time.
But on this date - Sunday, June 25, 2006 - Hollywood was overcast and muggy. The day was dark and it was in the mid-nineties. It felt more like Tupelo Mississippi, not Los Angeles. Steamy and uncomfortable. So the photo this date is one more
blue study
, one that didn't make it into the weekly - the view from the sand at Huntington Beach, Wednesday, June 21, with a sailboat and a gull, and the cool blue waters of the Pacific.